Kerala Companion, Kerala Tour Packages, Kerala Tours, Kerala Packages, Kerala Package Tours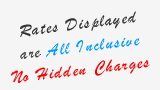 We offer Tailor-Made Holidays in Kerala for Family, Honeymoon Couple, Elderly Couple, Friends, Club Members, Corporate Groups, Incentive Groups, Students Groups Etc.. keeping in mind your desires and convenience.
Your thoughts and holiday ideas are our starting point to create the perfect Tailor-Made Holiday in Kerala for you.
Whatever may be your individual requirements, you can be assured that we are expert at designing a itinerary, tailor-made specifically for you.
Your Holiday will be Tailor-Made keeping in mind the below aspects:
Total No. of Persons travelling.
The time you have available to travel.
The type of accommodation you require.
Your transport & sightseeing preferences.
And most importantly Your Specified Budget.
Let us take the hassle out of planning your holiday by advising you on handpicked charming overnight stays and all the must-sees and best-avoided sights en route, to save your time & money.
What's more, you can tweak our initial proposal, making all the adjustments you need, so it really is a that perfect dream holiday designed exclusively for you.
Contact Now to plan your Tailor-Made Holiday:


Mobile: 0 94461 77577 (24x7 Online).
Email: rajesh@keralacompanion.com
Once we receive your enquiry, we will get back to you with the detailed itinerary and tour cost for your Tailor-Made Holiday.
Registered Office:

4 / 1165, (M.R.S.), Near M.S.C. Bank Ltd.,
Cherlai Road, Mattancherry, Kochi - 682 002,
Ernakulam District, Kerala State, INDIA.
Office: 0484 2118800 (09:00 Am to 06:00 Pm - IST).
Mobile: 0 94461 77577, 0 94462 77577 (24 x 7 - Online).
Email: rajesh@keralacompanion.com Website: www.keralacompanion.com